Rebekah Mather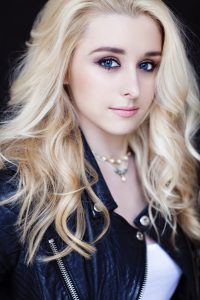 Rebekah has been passionate about performing from a very young age. When she was eleven years old she was a full time vocational student at The Hammond School in Chester where she was trained professionally in ballet, tap, jazz and musical theatre. She then went on to study at the prestigious Performers College in London where she graduated with distinction in dance and musical theatre as well as gaining her ISTD DDI teacher training qualifications in ballet, tap and modern. Rebekah then went on to do further training to become a certified Acrobatic Arts Teacher.
As well as teaching at various dance schools in the area, Rebekah works as a professional dancer and actress. Some of her highlights in her career so far are dancing at the 'We Day' charity concert at Wembley Arena alongside
Fleur East
, appearances on the 'Rugby Tonight Show' on BT Sport, Hollyoaks, and choreographing for the NFL Takeover on London's Regent Street where her students performed with America's Jacksonville Jaguar's cheerleaders.
Rebekah is very happy to be working at Holly Mayer Academy of Dance and looks forward to developing the talents of each individual student!
<div class=""><img class="alignleft size-medium wp-image-1609″ src="https://hmacademyofdance.com/wp-content/uploads/2018/07/image1-200×300.jpeg" alt="" width="200″ height="300″ data-mce-src="https://hmacademyofdance.com/wp-content/uploads/2018/07/image1-200×300.jpeg" /></div><div class="">Rebekah has been passionate about performing from a very young age. When she was eleven years old she was a full time vocational student at The Hammond School in Chester where she was trained professionally in ballet, tap, jazz and musical theatre. She then went on to study at the prestigious Performers College in London where she graduated with distinction in dance and musical theatre as well as gaining her ISTD DDI teacher training qualifications in ballet, tap and modern. Rebekah then went on to do further training to become a certified Acrobatic Arts Teacher.</div><div class=""><br /></div><div class="">As well as teaching at various dance schools in the area, Rebekah works as a professional dancer and actress. Some of her highlights in her career so far are dancing at the 'We Day' charity concert at Wembley Arena alongside <a dir="ltr" href="x-apple-data-detectors://2″ data-mce-href="x-apple-data-detectors://2″>Fleur East</a>, appearances on the 'Rugby Tonight Show' on BT Sport, Hollyoaks, and choreographing for the NFL Takeover on London's Regent Street where her students performed with America's Jacksonville Jaguar's cheerleaders.</div>
<br />Rebekah is very happy to be working at Holly Mayer Academy of Dance and looks forward to developing the talents of each individual student!<br /><br />
<div class=""><img class="alignleft size-medium wp-image-1609″ src="https://hmacademyofdance.com/wp-content/uploads/2018/07/image1-200×300.jpeg" alt="" width="200″ height="300″ data-mce-src="https://hmacademyofdance.com/wp-content/uploads/2018/07/image1-200×300.jpeg" /></div><div class="">Rebekah has been passionate about performing from a very young age. When she was eleven years old she was a full time vocational student at The Hammond School in Chester where she was trained professionally in ballet, tap, jazz and musical theatre. She then went on to study at the prestigious Performers College in London where she graduated with distinction in dance and musical theatre as well as gaining her ISTD DDI teacher training qualifications in ballet, tap and modern. Rebekah then went on to do further training to become a certified Acrobatic Arts Teacher.</div><div class=""><br /></div><div class="">As well as teaching at various dance schools in the area, Rebekah works as a professional dancer and actress. Some of her highlights in her career so far are dancing at the 'We Day' charity concert at Wembley Arena alongside <a dir="ltr" href="x-apple-data-detectors://2″ data-mce-href="x-apple-data-detectors://2″>Fleur East</a>, appearances on the 'Rugby Tonight Show' on BT Sport, Hollyoaks, and choreographing for the NFL Takeover on London's Regent Street where her students performed with America's Jacksonville Jaguar's cheerleaders.</div>
<br />Rebekah is very happy to be working at Holly Mayer Academy of Dance and looks forward to developing the talents of each individual student!<br /><br />